The Baylor Connection:  In April, Monika went to Corpus Christi to take care of her dad, Charlie Jewett after very serious aneurysm surgery.  He ended up needing to come home to Seattle for the rest of the summer to recuperate.  While there, Doris, Charley's wife, sued him for divorce. This has been very difficult and he hopes to get his life back together soon.  He went back to Texas on a road trip with Joshua to Waco.  Monika has been very busy getting the house ready to sell and then we were so happy when we thought we sold it to the first person that looked at it.  After 3 months, the sale went south, so now Monika is flying back and forth from Waco to Seattle to take care of our Lynnwood home.  The kids are thrilled that they can go back there for Christmas to snowboard and see their friends and for Jeremiah to see Leslie.  However, we need a lot of prayer to sell the house so that we can all be together again.  We are looking for places in Waco and hope to get a place we call River Ranch if they will substantially lower the price.
     One of the benefits of living in Waco is that we have got reacquainted with Monika's Cousin, Jim Lane, and his wife Ann.  Jim is giving us much needed advice on properties in Texas.  Today we looked at a 100 acre ranch that borders President Bush's ranch.  At least we would know that we would have nice neighbors and of course we like the fact that the county paved the gravel road. We are now toughing it out in an apartment until the house sells and or we buy another place.  We are praying for God's direction and timing in all of these things.
       We know that God is in the move, as Monika prayed on Saturday evening in Dec. that she would be able to take care of her Dad in his old age and that Josh would go to a Christian college.  On the very next Tuesday morning, just as we were ready to sign a contract with Colorado School of Mines, Bob said that Walter Bradley had just sent an e-mail asking us to consider Baylor. 
Monika said, well at least we would get a trip down to Texas to see her Dad and  don't you think we should check it out since we are sincerely praying where God wants us to go.  However, Monika almost changed her mind when Monika heard that Baylor was in Waco.  We still remember the wackos in Waco and this did not sound like a place she would want to live.  Of course, we really liked the sunshine and 75 degree weather after all the rain and cold in Seattle.  If we had interviewed in August we would have said no way!  Timing is everything.  We just love Seattle in August.
     This summer Joshua had a fantastic Senior trip to Hawaii. (see pictures at http://joshuamarks.com/ ). Marilee and Monika along with our good friends Ginene and Tami took a road trip to the Red Wood Forest, and on down to San Francisco.  We had a wonderful time and especially enjoyed staying at a Mountain Inn Resort in Bend, Or.  We wish we had a lot more time of the trip.  Bob and I cancelled our trip to Bangkok because of the SARS virus.
     Monika is still enjoying her scrap booking.  She hopes to start some classes when we move and this time she is planning a scrapbook room from the start when buying or building.
     Marilee invited Christina along on the road trip to Waco and the girls got to help Bob pick out the apartment.  Later, Leslie and I flew in and helped to get us more settled.
     Once we are settled we will let everyone know and we hope to have a guest room (it may be in the barn or in the cottage at River Ranch) so we will love to offer Texas hospitality and say y'all come down now for a visit!
<![if !vml]>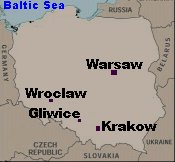 <![endif]>Poland Trip:  With a group of four other Christian professors, including John Walkup, Bob's Ph.D. Advisor and Rae Mellichamp, Bob visited four cities in Poland.  At numerous Polish Universities, he gave lectures on his technical work and Christian Apologetics.  Bob's talk "Scientists & God, the Myth of Incompatibility," is available on the web in both English and Polish. (See the link at the end).  Bob met great  Polish Christians who are also Professors, like   Zbyszek Wegrzyn, Krzysztof Wojciechowski, Janusz Keller and Andrzej Hlawiczka.  CLM and Campus Crusade staff, like Andrzej Zabolotny, Antoni Tompolski, and Tadeusz Szkatuba, did a great job of organizing the trip.   In a return trip later in the year, Bob visited Antoni's house where Krzysztof, Zbyszek and other old friends had an old fashioned outdoor weenie roast over a bonfire – except it wasn't weenies – it was kielbasa.
http://www.ecs.baylor.edu/faculty/marks/Marks/ChristainFacultyNetwork/Poland_2003/index.htm